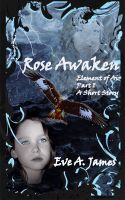 Rose Awaken
Without any memories of who she is and where she came from, eight-year-old Rose finds herself on a cargo ship in the middle of the sea. A mysterious stranger, who feels like a friend, an Eagle birthmark that moves freely about her body and magical powers are just the beginning of Rose's journey. What happens when her powers are discovered and taken from her?
This story isn't even on Goodreads. My question is - WHY?
There's not much to review, but I have to say it's amazing. You know - when you read a book you get different feelings. Sometimes it's "Oh my God, end it. It's boring", something it's "I-can't-stop-reading". This story gave me this second feeling.
I couldn't sleep at night (hello, my dear insomnia) and I needed something that will make me fall asleep. It didn't. I started reading and I really couldn't stop. Good thing it was short, because I would have to read it all night. 6331 words - it's for less than hour, I don't even remember exactly.
But it was perfect. Story makes you feel pretty nostalgic and I almost cried - really. I can't say lot about story, because I would spoiler (and it's to short to spoiler...), but it has sense. It makes you think - Is human nature really like that? You won't know how it ends, what happens next. Perfectly written, perfect story, perfectly developed.
Read it. I give it
5 stars
with clean conscience.
---
See? I managed to write next review so fast! (Okay, just because it was short story, don't think it will always be like that ;P)
I have a question to all my readers (so many of you for me! In so short time. I'm so happy, you know...) - should I change my layout? I know it's simple and not really nice, but does it bother you?
So now I'm just going to enjoy being sickly full of chocolate ( Me. Enjoying. Food. Weird thing...) and read a little! I hope to spend whole night reading by the way. I have time only at night...
What do you think about this story?
Happy Easter once again :)
Follow&comment! So many comments on last review (and one from author of the book!) made me cry. I'm honest.
xoxo, disincentive